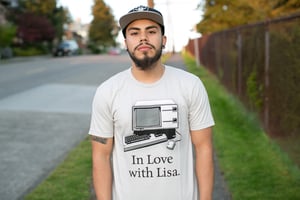 $

28.00
One of steve jobs finest creations, Lisa was released by apple in 1978, but with a 10k price tag, she didn't sell so well... We loved clean, futuristic aesthetic, though, so are giving her another chance to shine on torso's everywhere.
Lisa deserves your love... don't reject her again.
This design is a Might Tees original and won't be found anywhere else.
This tee is 100% designed, cut, sewn, and printed right here in the beautiful USA.
We're offering this tee in unisex and women's sizes: peep the size chart here.