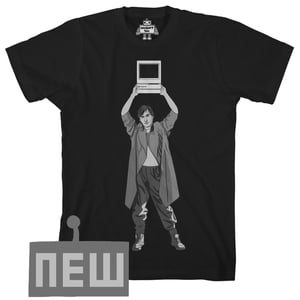 $

28.00
Steve Jobs as Lloyd Dobler Mashup!
This design was one of our most popular EVER. We sold out quite a while ago, but in honor of Steve, we're bringing Steve as Lloyd Dobler back for a limited reprint on a black tee.
This design is a Might original and won't be found anywhere else. And as per the usual, we print these in limited quantities and once we sell out, we'll be out forever.
This tee is 100% designed, cut, sewn, and printed right here in the beautiful USA.
We're offering this tee in unisex and women's sizes: peep the size chart here.